My Speedo Fetish

Growing up in Australia, people wore speedos and it was no big deal. But when I started to explore my sexuality, speedos somehow came to play a part in my exploration.....

My very first sexual experience was with another guy and we were both wearing speedos (I've written about that and members can read about my first sexual experience).
The hottest sexual experience of my life to date, a bisexual MMF threesome in a steamroom, involved both us guys wearing speedos (yes, members can read about that as well - click here).
Right now I probably own over 100 pairs of speedos, some I wear swimming at the pool, some are far too naughty for wearing in public.

If you have a speedo fetish, or you just like hot guys then I think you are going to enjoy my site. Have a look around and drop me an email if you have any question/thoughts/ideas.
Model Shoots

Bryce the Beefcake,

Here at SpeedoFetish.com, I love all body types and types of guys.... as long as they are wearing speeds.

Bryce is a real man and looks fantastic in these AussieBum speedos. It does look like those AussieBum's are struggling to contain his big, fat, juicy cock.

Just imagine if you were hanging out at the pool with Bryce, would you let him fuck you? Or would you peel those AussieBum's down and fuck him?

Links - Photo Shoot
Speedo Photo of the Day

The Speedo Photo of the Day is taken from the members archive of photos.

There are just under 7,000 photos available to members.
My Sisters Fiance
Movie Length: 46 mins and 45 secs
Description: This movie is epic, over three quarters of an hour long and features guys hanging out in speedos, some softercore oral action and finishing with a hardcore threesome. Enjoy guys!!!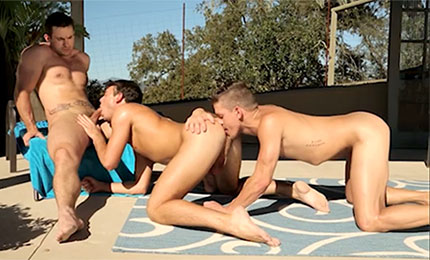 Bear Shower
Movie Length: 17 mins and 55 secs
Description: Not exactly a speedo movie but these two big hairy bears have speedo tan lines, does that count? If you like real men then this movie features two real men fucking real hard under an outdoor shower.